Interview: We have seen your works all over and that's what prompted this interview, we are really proud of you and want to associate with you. How did you get into fashion design?
Seun Ibitoye: My story of how I got into fashion design is the same as many other fashion designer. I like to think of myself as a Tailor, Fashion Designer and Fashion Entrepreneur. My mother was a tailor so I grew up learning her and in 2016 when I decided  to go professional,  I had to take advanced  fashion design classes, started sewing and designing  for friends and family.
Interviewer: You design and sell clothes to some Celebrities, how did you meet them?
 Seun Ibitoye: They were referred  to me and some of them saw my social media posts and tags on Instagram.
Interviewer: We are aware you have a good customer base in the UK, Canada, US Ghana and China how did you meet this clients and how often do you sew for them?
Seun Ibitoye: My brand name did the magic and we got the referrals, more so, it's been a matter of hardwork, patience research and rigorous trainings.
Interviewer: Do you import the material and make them here or you get them all here in Nigeria?
Zainab: All our garments are made in Nigeria. We buy everything in Nigeria.
PT: How do you intend to drive more patronage even beyond Nigerian Market?
Seun Ibitoye: Right now, the brand just aims to be better. We are stocking in three cities in Nigeria now: Abuja, Ibadan and Lagos. This way, we get to expand to many more people across Nigeria. We are planning on penetrating The Great Britain and get featured on British fashion shows
PT: Do you do female clothing only or you do both male and female?
SeunIbitoye: Female of all age
Interviewer: What was your motivation?
Seun: Those who seek fashion advice and assistance always motivate me, they make me feel like I am doing something right. The Global fashion market is another motivation.. Fashion styles advance every minute and you have to keep up or you drop out
Interviewer: Were you in any kind of fashion school, or training before now?
Seun Ibitoye: Yes. I am even currently in fashion illustration school online and I train every time
Interviewer: Can you tell us about a future plan you plan you haven't  revealed yet.
Seun Ibitoye: Well, I can't  say it hasn't been revealed  yet,  we just want to make it more encompassing. It's  our community  service programmes. We have been teaching primary school pupils how to sew , we go to schools to do this. We aim to develop the entrepreneurial skills of these kids  so they  can be self dependent and not wait for government for jobs.
Interviewer: Do you have social media handles
Seun Ibitoye: Yes I do, I'm on Instagram  as  Sesteemi Fittings, that's where you can see some of my works.
See Pictures Below: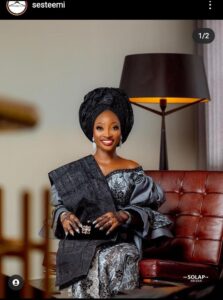 ---
Sponsored Content
Call or Whatsapp 08161430621 to feature your content on the blog.