"Aaso" Written by Hameed Are Latoosa and Directed by Kunle Afod Is Set To Hit The Cinema. WATCH OUT!
The story is based on an Islamic clergyman, who was so wealthy and he is very strong in Islamic faith (Imaan). He is nicknamed "Alfa Papalaaso".  He has one wife and a son.
Alfa Papalaaso announced that he has a walking stick and the three "Aaso" on his walking stick has three names. He stated that who so ever knows the name will be given the priviledge of going to the next Hajji (pilgrimage to mecca and Medina) for Holy Pilgrimage.
It was a big search for everyone including the Chiefs. He made them to realize that there would be lessons to learn hence their search for the Name.
Why don't you sit and relax to know who solved the riddle.
"Aaso"  was Written by Hameed Are Latoosa and Directed by Kunle Afod with Samson Kogberegbe as Assitant Director and Bukki Hassan as D.O.P.
Wale Akorede Okunnu, Ibrahim CHATTA, Ayobami Olabiyi-bobo bee, TOYIN Adegbola-Ashewo to re mecca, MUYIWA ADEGOKE-londoner, Olu Olowoogemo-hareejan and other amazing acts starred in this movie titled "Aaso" by Hameed Are Latoosa.
Watch out for for it is coming to the Cinema soon.
Photos of the Making Below: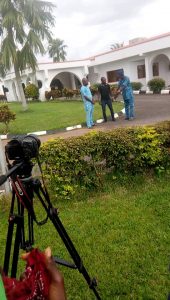 Contact 08108549621 to feature your works on officialuniqueblog.